---
Schmoozing the night away...
Judy had a great time at Celtic Connections in Glasgow with the band Real Time - playing on the Festival Club stage on the last Wednesday of the festival they had a fantastic reception, met lots of old friends and made loads of new ones. Judy had time to catch up with Tony McManus (trying to be on his way to Toronto and failing miserably because of snow!) and Tim O'Brien, who she last saw while at Tonder Festival with Jez Lowe and the Bad Pennies. Real Time have covered one of his songs 'More Love' on their new album (more of that later) and Judy met Eddi Reader for the first time (and still hasn't stopped talking about that).
Real Time rolled into their respective beds at 5am - enough said!
Next stop: Hollywood?
From Judy's solo album Fine Times, Mawson and Wareham have filmed two songs - "Blow the Wind Southerly" and "Water of Tyne". Geoff Wonfor (producer: The Tube), and Ray Laidlaw (ex-Lindisfarne), ably aided by Eddie the cameraman (a vital part of the crew), braved the cold northern winds of Tynemouth, Whitley Bay and North Shields fish quay, placing Judy in places of great danger and hypothermia to put together the videos. Parts of a performance at the Playhouse Theatre in Newcastle with Johnny Dickinson and Pete Scott are also featured in the videos. "Blow the Wind Southerly" has been shown on ITV in Newcastle. But no Oscar nomination just yet!
Sunday for Sammy
On Sunday 4th February Judy was invited to sing on Sunday for Sammy at the City Hall in Newcastle - for the Sammy Johnson Memorial Fund.
The Sammy Johnson Memorial Fund was founded from an idea by Tim Healey, Jimmy Nail and friends of Sammy Johnson - to raise funds for young performing artists in the North East, and commemorate Samuel Johnson (Stick from TV's Spender) who died suddenly 4 years ago.
This is the third year for the Memorial Fund and a fantastic cast of Geordie actors and musicians gave their time free - and as well as Tim Healy and Jimmy Nail, they included Kevin Whately, Denise Welch, Brian Johnson, Ray Stubbs, Ray Laidlaw, Billy Mitchell, Brendan Healey, Peter Beardsley (ex-Newcastle footballer) and a young band, Calma, from Newcastle, who have benefitted from the Foundation. As well as musical performances there were short sketches written by Dick Clement and Ian la Frenais.
It was also great fun backstage - we all understood each other - Geordie.
The two performances were a tremendous success and raised more than £80,000 for the fund. More information about the fund can be obtained from the Community Foundation in Newcastle.
New Real Time CD
Real Time's new album Hell & High Water (Big Sky CD116) is now completed and will be available in the UK on their return from Holland on the 24th February. There will be an official launch party at "The Cross Keys", Denholm, Scottish Borders, on Friday 19th March - tickets £6.00, £3.00 concessions - all welcome. Come and celebrate with us.
The album features Judy (vocals & guitar), Kenny Speirs (vocals & guitar), Tom Rosebrough (keyboards) (who also recorded the album at his Blue Sky Studio in Galashiels) and Iain Anderson (fiddle).
Guest musicians on the album are Brian McNeil (ex-Battlefield Band; fiddle, bouzouki, concertina), Steve Lawrence (ex-Iron Horse; bouzouki, low whistle and percussion), Neil Harland (the Hush and Kathryn Tickell band; double bass) and Gary Forest (we just couldn't stop him playing; accordion).
The album is an eclectic mix of traditional and contemporary material from Scotland, England and the USA - beautiful haunting ballads and slow airs along with foot-stomping reels and songs.
More details of album and dates at http://www.realtime.uk.net.
"Fine Times" launched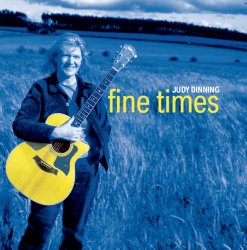 Judy's long-awaited new solo album Fine Times was launched on January 16th at the Live Theatre, Newcastle as part of the Jumpin' Hot Club season.
Fine Times is a collaboration between Judy and Pete Scott with Johnny Dickinson on slide guitar. An eclectic collection of songs - traditional, contemporary, and from the pen of Joe Wilson in the 1800s (new tunes from Pete) - all from the Northumbria Anthology with a modern approach. (Recorded by Tony Davis at the Cluny Studio in Newcastle.)
On the evening of the 16th January, Judy was joined by Pete Scott (guitar, vocals), Johnny Dickinson (slide guitar), Neil Harland (bass), Tony Davis (piano), and Finn McCardle (percussion).
In further news...
Under the umbrella of the Northumbria Anthology there is also in the pipeline a "Water of Tyne Tour" for songs from Fine Times and also featuring Pete Scott with songs from his A Day in the Life CD with Jim Hornsby, in the North East in March - watch this space for venues, dates etc.
Judy is also in the middle of recording a new Real Time album, Hell & High Water, and preparations for a tour in Holland in February are well under way. She is also looking forward to two tours in Germany in late March and in May, with a return to the UK for a tour in May and November.
Further details from the Real Time website.
---